Manx Precision Optics (MPO) is an Isle of Man family-owned company that manufactures a wide range of optical components. Founded in 2013, MPO is a member of the Isle of Man Aerospace Cluster. Business Isle of Man catches up with the man behind the lens, Dr Helmut Kessler (Managing Director) to see how the business has grown in the last 6 years.
The company exports globally, supplying optics to industrial customers who make lasers, as well as research and development (R&D) bodies in high power research.
Helmut is a physicist by trade with a background in coating design. His passion for producing precision-made optics is something that shines through the business and is one of the reasons why they have been so successful on the Island.
Helmut believes it is important to fully understand the manufacturing process as optics manufacture is a non-deterministic process. It is for this instance the company needs to be flexible due to the inherent risk involved, as a small speck of dust latching onto one of the optics can scratch the surface and cause damage. He explains there are some parameters they can control but other things you just can't control or account for. This is what excites Helmut and his enthusiasm transfers to the employees which creates a positive working culture where quality and efficiency thrive.
The company has always focused on the long-term, and avoids paying too much attention to short term goals as Helmut believes you can achieve more overall this way. He commented:
'We concentrate on our people, inventions and long term growth.'
In light of this, the company is continually looking to expand whilst keeping control of quality. Last year MPO recognised the need for new capital equipment. Helmut received support from the Department for Enterprise (DfE)'s Business Support Scheme (BSS) in the form of a grant to purchase a new coating chamber. They also received support towards the quality accreditation ISO9001:2015 which means their quality management system (QMS) is certified and internationally recognised.
The new £450,000 chamber is now in place and fully functioning. The chamber is hugely influential to the business as it will allow MPO to double their coating capacity. It also features advanced control systems and is fully automated with the potential to run overnight, increasing efficiency.
Even though this addition to the business has facilitated further expansion, Helmut continues to look for ways to improve and develop. Next year he plans to further expand the grinding and polishing capabilities.
As a result of all this change, the company will be looking to recruit this year. There will also be vacancies in the accounting side of the business as well as the optics. Jeanette Kessler, Helmut's wife and Director of Finance, will be looking for assistance in the finance department due to growing order books and increased activity.
The husband and wife team always look to recruit locally, and are keen to take on young people to teach in an apprenticeship role, allowing them to grow with the business. They are both passionate about supporting local talent and are conscious about remaining a key part of the community.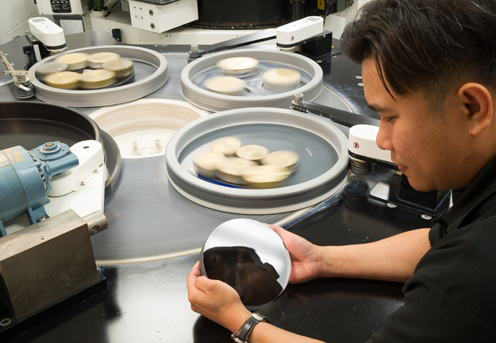 One of the strengths of the company, and arguably the key USP, is that they complete all processes in house. This is very important to MPO's R&D customers as they can get everything they need from one supplier. Improving quality, reducing risk to customers and improving customer service overall. Traceability of the product is key, and MPO have this. Helmut comments:
'We offer a tailored, special service supported with knowledge and expertise. We are flexible in the work we do, and are always willing to try and test different things. Our clients are happy to pay for quality, and they can be rest assured they will receive this due to our quality accreditation.'
Overall, Manx Precision Optics is a relatively small company working to the rules and standards of larger companies in the industry. Small but mighty is a term that is rather fitting for this rapidly expanding local business, and also a reflection of the Isle of Man itself.
---
---